Gitignore with SublimeText
September 26th, 2015
I was looking for a good way to fill the .gitignore when starting a new project.
I then remembered about a collection of useful gitignore templates from GitHub, which is basically a list of gitignore for each programming language.
There you'll find files like these:
Ada.gitignore
Agda.gitignore
Android.gitignore
AppEngine.gitignore
AppceleratorTitanium.gitignore
…
…
Node.gitignore
…
And so on…
Great, we have a repository with good gitignores! The problem now is how to add them quickly to your project.
Such problem, very Google: I found a post from Marc Jenkins suggest to use Nettuts-Fetch for Sublime Text to achive exactly what I was looking for.
Basically Nettuts-Fetch is a download & paste tool: you fill its configuration file with name and url then you it will download the content from those urls and paste it directly in your editor.
Configure Nettus
Soooo, open the default configuration

and add to files

Finally Use It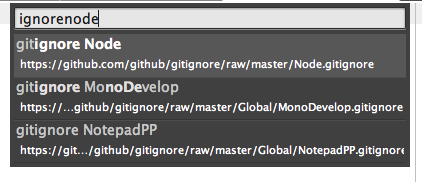 Enjoy.
Read more posts of the same categories:
Read similar posts: